Happy Tuesday reader friends and welcome to another Top Ten Tuesday hosted by That Artsy Reader Girl! Today we are talking about bookish worlds that I would love to visit, even if just for a day. I have to tell you that there are so many books that I would love to just jump right in and be a part of! Some may be silly (I mean I could really put any Dr. Seuss book on this list), some may seem daring, but I would love them all!
Narnia. Isn't this on everyone's list? So magical, whimsical, and a place I have dreamed of since I was a child.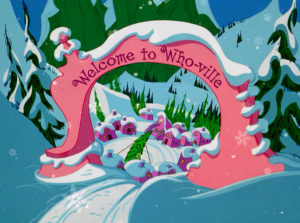 This probably falls in the silly category. I really would love to be in any Dr. Seuss book, but How The Grinch Stole Christmas is my favorite. Funky hairstyles and clothes, and everyone is so happy. I just think it would be fun. Don't you?
The Kingdom from Jody Hedlund's An Uncertain Choice series. I mean with knights, ladies in waiting, and more from this medieval setting, how could you not want to visit?
The planet Delon from Reclaiming Shilo Snow. Sure, it's scary and dangerous. But going through the adventure with Sofi just sounds so fun!
I am an old soul at heart. I love everything historic, the good and the bad. Historic fiction has captured my heart the past few years and I just get sucked into the times while I am reading. My husband and daughter think I'm weird. We have a museum in our town that is about the mid 1800's. The tour guides and workers wear historic clothing, and my goal is to volunteer there when I'm retired. Or maybe sooner! My point is, put me in any historic book setting (well, within reason) and I will be happy as a clam.
The world that Sara Ella has created here captivated me. It is so unique, fun, whimsical, and yes partly dangerous. But it would be exciting to be a part of, don't you think?
You can call me crazy on this one. The Amish life fascinates me. It just does. They are so family oriented, simple, hard working, and still find time to have fun. I live near some Amish communities, and take me to any book that has an Amish setting and I am happy. Since I still love the modern things in my life, I am happy to visit an Amish community through my reading whenever I can.
I would really like to be in any part of the Lunar Chronicles. It just sounds so intriguing to me! I would even visit Cress in her satellite location! This is one series that I hope never makes it to the big screen **gasp**. Why? Because I think it's so much more creative in my mind and I don't want to ruin that.
Madeleine L'Engle is a master of creating bookish worlds that you want to visit. This is one of my favorites from my childhood, and much like the Narnia setting, I dreamed of this world too. I dd recently see the movie – and had mixed feelings. Again, I think our own imaginations serve much better than the big screen. Luckily, I can still see this magical world in my mind as I did when I was a child. I like to visit it every now and then.
How about you? What bookish world would you like to visit?